Hey there,
If you follow me on social media you must have seen my posts about my new book ON THE RIDE which is going to be available from April 1st.
Here's a picture of the cover
Brief Description
On The Ride is a non-fiction book that covers a lot of young people related challenges, experiences and lessons. It sees into the evolving young mind and provides a guide to emotional, mental, academic, career, entrepreneurship and love related matters. I believe you would enjoy reading it. On the Ride is a book that you can use as a gift 🎁🎁 or a seed into the lives of young people you truly care about, it would definitely bless their lives.
Foreword
The Foreword was written by my mentor Pastor Oluwafemi Oyetunde. A successful business professional and dedicated man of God who has proven his worth over the years. He has a passion for youth development and the improvement of startups & small businesses.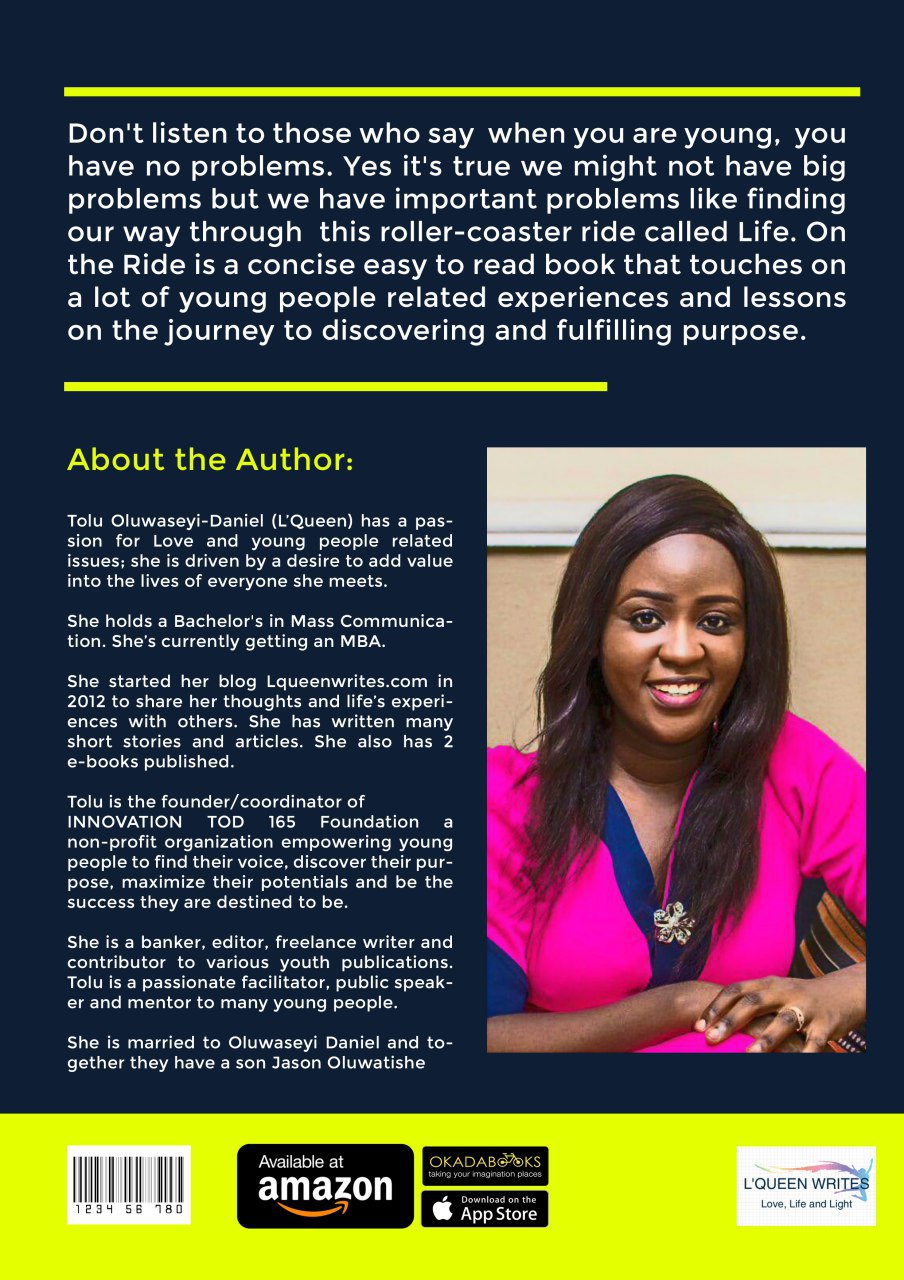 Chapter Titles
ON THE RIDE
KNOW YOU & WHAT YOU ARE ABOUT

WHAT DO YOU NEED?

WHAT WOULD YOU HAVE TO GIVE?

IT'S OKAY NOT TO BE OKAY

YOU CAN DO BETTER

AGE IS NOT MATURITY

LIFE HAPPENS….DON'T LOSE YOURSELF

YOU CAN'T STAND ALONE…YET

BROKEN HEARTS STILL MEND

NO HARD WORK, NO HAPPY ENDINGS
On the Ride would be available for Download from April 1st📱💻 on Amazon, Okadabooks and this website.
You can get the hard copy📚📖 in book stores from April, you can pre-order by sending a mail to Lqueen@Lqueenwrites.com
You can still get to download my fiction short story books on Okadabooks from
here
I really do hope you enjoy reading this as much as I enjoyed writing it. Kindly send in your reviews and ratings after reading . I appreciate you💕
Enjoy the rest of the day
Love,
L'queen
Comments
comments